Analiza
Analiza is a special display area showcasing technologies, equipment & instrumentation for Industrial Laboratories.
Display topics include: equipment and measuring instruments for laboratories for the heavy industries and the pharmaceutical industry, clean rooms, fume hoods and filters.
Dates & Location
12-13/03/19: 09:00
- 17:00
Organizer
Company : Stier Group LTD
Phone : 03-5626090
https://www.stier.co.il/ANALIZA/index.as
DIRECTIONS
Ayalon Darom: Drivers arriving from the north must exit left at the Rokach interchange.
Ayalon Tzafon: Drivers arriving from the south must exit right at the Rokach interchange.
Drivers are to exit at the Convention Center interchange and follow the signs.
Expo Tel Aviv includes approximately 2,500 parking spaces, located within the Convention Center area, the Sports Arena parking lot and the nearby train station parking lot. Additional parking (2,000 spaces) is available at the nearby Ganey Yehoshua parking lot.




Israel Railways (Rakevet Israel): The University Train Station is located near Expo Tel Aviv. Israel Railways
Egged Bus Company – Bus number 521. Egged
Dan Bus Company – Bus numbers 12, 22, 40, 89, 189, 389. Dan 
Metropoline Bus Company – Bus numbers 47, 48, 247 from Central Tel Aviv and Raanana/Kfar Saba/Herzliya/Ramat Hasharon. Metropoline
Kavim Bus Company – Bus number 137. Kavim
A Tel-O-Fun bike anchoring station is located on 106 Rokach Boulevard. Tel Aviv has close to 70 km of marked bike paths, including urban paths and paths located in residential neighborhoods and parks.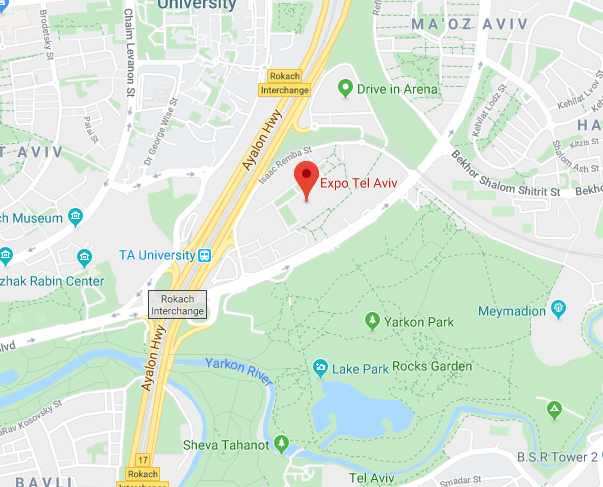 After the event, it's time to explore Tel Aviv!
אירוע באקספו תל אביב מזמן לכם את ההזדמנות להמשיך את החוויה בעיר ללא הפסקה המציעה למבקריה אינסוף אפשרויות בילוי, קולינריה ותרבות.