FUTURE IL
Future IL is the largest job and opportunity fair for international young adults in Israel. But it just the beginning.
In one place, a chance to meet and interact with thousands of international talent-for whom work and life in Israel is an exciting future possibility.
In one place, a unique access point for Israeli companies, looking for global talent and to further integrate into international markets.
FUTURE IL matches thousands of young people with hundreds of companies and sparks ongoing engagement between companies and potential future employees.
More than a job fair: an ongoing network of international and local-building common futures, creating ongoing connections, bringing global talent to Israeli companies
Dates & Opening Hours:
Monday 24/6/19: 16:00
- 22:00
Organizer
Company : Promarket
Phone : 03-6365777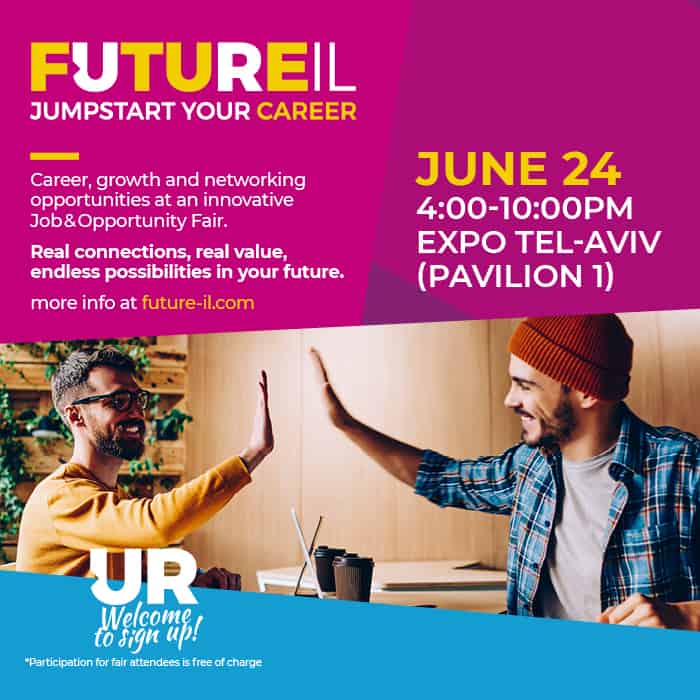 DIRECTIONS
Ayalon Darom: Drivers arriving from the north must exit left at the Rokach interchange.
Ayalon Tzafon: Drivers arriving from the south must exit right at the Rokach interchange.
Drivers are to exit at the Convention Center interchange and follow the signs.
Expo Tel Aviv includes approximately 2,500 parking spaces, located within the Convention Center area, the Sports Arena parking lot and the nearby train station parking lot. Additional parking (2,000 spaces) is available at the nearby Ganey Yehoshua parking lot.




Israel Railways (Rakevet Israel): The University Train Station is located near Expo Tel Aviv. Israel Railways
Egged Bus Company – Bus number 521. Egged
Dan Bus Company – Bus numbers 12, 22, 40, 89, 189, 389. Dan 
Metropoline Bus Company – Bus numbers 47, 48, 247 from Central Tel Aviv and Raanana/Kfar Saba/Herzliya/Ramat Hasharon. Metropoline
Kavim Bus Company – Bus number 137. Kavim
A Tel-O-Fun bike anchoring station is located on 106 Rokach Boulevard. Tel Aviv has close to 70 km of marked bike paths, including urban paths and paths located in residential neighborhoods and parks.